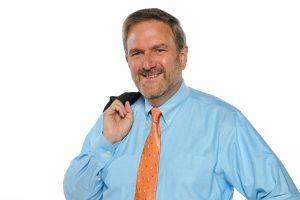 host
Frank Murphy
Frank Murphy is an improviser on-air, on stage, and online.
Frank hosts Tennessee Scholars' Bowl, an academic competition
between area high schools. The program airs on East Tennessee
PBS, and streams online weekdays at 5:30 p.m. Frank joined Scholars'
Bowl starting with its 2017 season.
In 2021, Frank became host of Up Close with Frank Murphy, a
monthly late-night interview program on East Tennessee PBS. Past
episodes are available on the PBS Video App.
Frank has a podcast, and YouTube channel called the Frank & Friends
Show which features appearances by several guest co-hosts. The
podcast and travel vlogs about tourist attractions near the Great
Smoky Mountains are found at FrankAndFriendsShow.com The vlogs
are also featured on SeeMoreSmokies.com
Fans of "Knoxville's Greatest Hits" can hear Frank weekdays between
3:00 and 7:00 p.m. on 104.9 Lake FM or online at lakefm.com
World-renowned forensic anthropologist Dr. Bill Bass utilizes Frank at
many of his speaking engagements, which are planned by the team at BoneZones.com. Frank serves as emcee and facilitator.
Frank joined the comedy improv troupe Einstein Simplified a month
after moving to Knoxville in 2002. The group performs on Tuesday
nights in Scruffy City Hall on Market Square. Frank earned the title "Man of the Year" in the Leukemia & Lymphoma
Society's 2017 fundraising competition. In 2012 and 2013, Frank won
the Host with the Most stand-up comedy contest to raise money for
charity. In September, 2020, he joined the board of Marble City Opera. rank was the 2014 Social Media inductee in the Friends of Literacy
East Tennessee Writers Hall of Fame. Frank's blog, which was active
from 2005 to 2015, was voted one of "East Tennessee's Best" by the
readers of the Knoxville News Sentinel for four consecutive years and
the "Best of Knoxville" by the readers of Metro Pulse. He is currently
writing a book with stories from his life and career.
2022 marked Frank's third appearance as a voice actor in the Nativity
Pageant of Knoxville, portraying six characters. Frank was in the cast
of several Oak Ridge Civic Ballet Association productions from 2010
to 2019, including The Nutcracker, Cinderella, Sleeping Beauty,
Beauty & the Beast, and Into the Woods. From 2014 to 2018, he was
in the cast of the Front Page Follies, an annual musical spoof of local
news stories.
Frank has emceed many fundraisers and festivals in East Tennessee
including New Year's on the Square, the Knox St. Patrick's Parade,
the Knox Asian Festival, the Regional Youth Talent Competition, the
Karns Fairest of the Fair Pageant, the Hearth Scares Ball, and the
Rocky Hill Christmas Parade. In 2018, he was voted "Knoxville's
Finest Emcee" by the readers of Blank Newspaper.
In Knoxville, Frank is heard on 104.9 Lake FM (WPLA). He was
previously on-air at WNOX-FM, WWST-FM, WTXM-FM, and WOKI-
FM. Prior to moving to Tennessee, Frank worked at KLOS-FM,
KROQ-FM, and KPWR-FM in Los Angeles and WAVA-FM in
Washington, D.C.
Frank graduated from George Mason University, where he won the
Senior of the Year award. He became a KCBS Certified Barbeque Judge in 2013. His hobbies include writing, swimming, and growingfigs. Frank has visited all growing figs states and hopes to take his wife, Jere to the two states she has not yet visited. Frank and Jere have two adult children and five grandchildren.