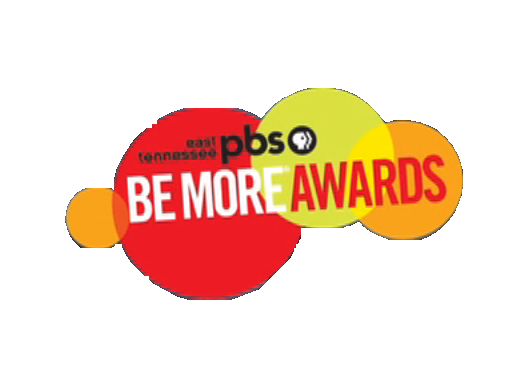 East Tennessee PBS
2020 Be More Award - Shades of Hope
Presented by Home Federal Bank, the winner of the East Tennessee PBS Be More Award for the month of February, 2020 is Shades of Hope.
For More Information See: https://shadesofhopeinc.com/
2020 Be More Award Recipients
East Tennessee PBS
2020 Be More Award - Shades of Hope
East Tennessee PBS
2020 Be More Award - Suffrage Coalition
East Tennessee PBS
2020 Be More Award - Mountain Music Museum
East Tennessee PBS
2020 Be More Award - Positively Living & Choic
East Tennessee PBS
2020 Be More Award - UUNIK Academy
East Tennessee PBS
2020 Be More Award - STAY Project
East Tennessee PBS
August 2020 Be More Award - Great Smoky Mountains
East Tennessee PBS
2020 Be More Award - Knox Education Foundation
East Tennessee PBS
2020 Be More Award - SW Virginia 4-H Education Cen
East Tennessee PBS
2020 Be More Award - The Gateway
East Tennessee PBS
2020 Be More Award - Jubilee Project
East Tennessee PBS
2021 Be More Award - (ARCH) Appalachian Regional C
East Tennessee PBS
2021 Be More Award - Clinch-Powell RC&D
East Tennessee PBS
2021 Be More Award - CEMPA Community Care
East Tennessee PBS
2021 Be More Award - Project Help
East Tennessee PBS
2021 Be More Award - Healing Hands Health Center
East Tennessee PBS
2021 Be More Award - Sunset Gap Community Center
East Tennessee PBS
2021 Be More Award - Rose Center Council for the Arts
East Tennessee PBS
2021 Be More Award - Senior Citizens Home Assistance Service (SCHAS)
East Tennessee PBS
2021 Be More Award - UMOJA Arts & Cultural, Inc.
East Tennessee PBS
2021 Be More Award - Two Bikes
The Be More Awards Mission
The Be More Awards are given to leaders in our viewing area who contribute to the overall well-being of our community through education, the arts, health services or other forms of charitable giving or community involvement. The Be More Awards can be awarded to non-profit organizations, for-profit organizations or individuals that inspires us to Be More. Be More awards are made possible by Home Federal Bank and recipients of the Be More Awards are showcased during daily programming on East Tennessee PBS.
2019 Be More Award Winners
2019 Be More Award Winners
East Tennessee PBS
2019 Be More Award - Ex Libris Library Extension
East Tennessee PBS
2019 Be More Award - The Restoration House
East Tennessee PBS
2019 Be More Award - Douglas Cherokee RSVP
East Tennessee PBS
2019 Be More Award - The Union County Opry
East Tennessee PBS
2019 Be More Award - Centro Hispano de East Tennes
East Tennessee PBS
2019 Be More Award - Helen Ross McNabb Center, Mil
East Tennessee PBS
2019 Be More Award - Faith N Friends Horse Rescue
East Tennessee PBS
2019 Be More Award - New Intuitive Development
East Tennessee PBS
2019 Be More Award - JDRF
East Tennessee PBS
2019 Be More Award - The Great Golden Gathering
East Tennessee PBS
2019 Be More Award - The Hearing & Speech Foun
2018 Be More Award Winners
2018 Be More Award Winners
East Tennessee PBS
2018 Be More Award - Appalachian African American
East Tennessee PBS
2018 Be More Award - Volunteer Blind Industries
East Tennessee PBS
2018 Be More Award - Dogwood Arts
East Tennessee PBS
2018 Be More Award - Coal Creek Miners Museum
East Tennessee PBS
2018 Be More Award - The Knoxville History Project
East Tennessee PBS
2018 Be More Award - Girls Inc. Tennessee Valley
East Tennessee PBS
2018 Be More Awards - Women's Fund of East Tennes
East Tennessee PBS
2018 Be More Awards - Youth Metro Drug Coalition
East Tennessee PBS
2018 Be More Awards - James White Fort
East Tennessee PBS
2018 Be More Awards - Tennessee Citizens for Wild
East Tennessee PBS
2018 Be More Awards - First Tee of Greater Knoxvi
East Tennessee PBS
2018 Be More Awards - Yoke Youth Ministries
2017 Be More Award Winners
2017 Be More Award Winners
East Tennessee PBS
East Tennessee PBS Be More Award - Sunshine Ambas
East Tennessee PBS
East Tennessee PBS Be More Award - Paramount Cent
East Tennessee PBS
East Tennessee PBS Be More Award - Keep Knoxville
East Tennessee PBS
East Tennessee PBS Be More Award - Special Spaces
East Tennessee PBS
East Tennessee PBS Be More Award - Jefferson Rura
East Tennessee PBS
East Tennessee PBS Be More Award - The Capitol Th
East Tennessee PBS
East Tennessee PBS Be More Award - SOCM
East Tennessee PBS
East Tennessee PBS Be More Award - Appalachian Vo
East Tennessee PBS
East Tennessee PBS Be More Award - Appalachian Co